Members' Bulletin Board

De Novo in NYC, Dec 1 to 22.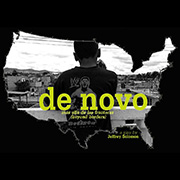 Houses on the Moon's De Novo, which we saw at AotL in May 2015, has now settled in for a three week run at the New York Theatre Workshop on East 4th Street in NYC. To see it again or for the first time, click here. Timelier than ever, De Novo tells the true story of a teenaged boy from Guatemala who faced deportation after fleeing to the U.S. to escape gang life.

Heard first at AotL, now in The Guardian news
Previewed at Arts on the Lake last March, Ron Hutchinson's "Clinging to the Iceberg" is now (in October) available at Oberon Books. Hutchinson elaborates in this Guardian interview the Dr Moreau story we heard in March.

If you have an announcement for our bulletin board ...

Please email the details to inquiry@artsonthelake.org. Include the text you want to post on the bulletin board and when you'd like it posted. A small photo can be included.
Bulletin board postings are a service available to members of Arts on the Lake for arts related announcements.
Personal Web Pages
Arts on the Lake offers members at the Contributing level and above a Personal Web Page on this website. More about the Personal Web Page »
Membership
For you are not a member, please visit our Membership page to join the growing community of people who enjoy and support the arts at Arts on the Lake.
If you have questions about your membership, please email office@artsonthelake.org.