Ukes on the Lake
Tuesday, September 12, 7:00 pm to 8:30 pm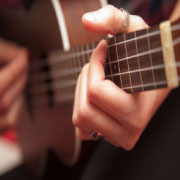 UKES ON THE LAKE meets at Arts on the Lake the 2nd and 4th Tuesday of the month from 7 to 8:30 pm, to play, work on technique, grow as musicians and make friends.
Experience does not matter. All that matters is a love of making music. First-time visitors are always welcome.
Contact us at office@artsonthelake.org for more information.
Dates Ukes on the Lake are scheduled to meet may change at the discretion of the group. If you are planning to attend for the first time please contact us at the email given above.
No uke? Try this imaginative solution - six guys on one ukulele.
Song charts used and others can be found at:
A Groovy Kind Of Love p 96
All I Have to do is Dream p 18
Chapel Of Love p 53
Blur Skies p 38
Crazy p 58
Devoted To You p 63
Give My Regards To Broadway p 89
Five Foot Two, Eyes Of Blue p 82
Hey Good Lookin' p 108
My Bonnie (Lies Over The Ocean) p 167
I Saw Her Standing there p 130
I've Just Seen A Face p 135
King Of The Road p 143
Three Little Birds p 237
You Are My Sunshine p 279