Ukes on the Lake
Thursday, October 12, 2017 7:35 pm to 8:30 pm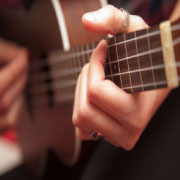 UKES ON THE LAKE is a wonderful, fun loving group of Uke players who meet at Arts on the Lake the 2nd and 4th Thursdays of the month from 7 to 8:30 pm. Working on a variety of songs, techniques and styles, participants share their skills and knowledge with one another while helping everyone practice and grow as musicians.
The next meeting dates are October 12th and 26th.
Experience does not matter. All that matters is a love of making music. First-time visitors are always welcome, but please contact us first to be sure of the schedule.
Contact us at office@artsonthelake.org for more information.
No uke? Try this imaginative solution - six guys on one ukulele.
Song charts used and others can be found at:
A Groovy Kind Of Love p 96
All I Have to do is Dream p 18
Chapel Of Love p 53
Blur Skies p 38
Crazy p 58
Devoted To You p 63
Give My Regards To Broadway p 89
Five Foot Two, Eyes Of Blue p 82
Hey Good Lookin' p 108
My Bonnie (Lies Over The Ocean) p 167
I Saw Her Standing there p 130
I've Just Seen A Face p 135
King Of The Road p 143
Three Little Birds p 237
You Are My Sunshine p 279