Mike Clark / Tim Ouimette Big Band
Friday, May 14, 2010 at 8:00 pm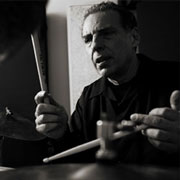 Drum legend Mike Clark and trumpeter Tim Ouimette have put together a band that includes Seth Carper on Alto Sax, Bill Harris on Tenor Sax, Rick Kriska on Baritone Sax, Dan Yeager on Trumpet, Art Triggs on Trombone, Jeff Pittson on Piano and Joe Sinaguglia on Bass.

Since Mike Clark's explosive arrival on the music scene with Herbie Hancock and the Headhunters, he has continued to influence successive generation of drummers. Currently working with trumpeter Tim Ouimette on a new album, some of which will be explored in this extraordinary concert.
Mike Clark / Tim Ouimette Big Band in the News
About the Event
Photos by Austin F. Cassidy
MIKE CLARK gained worldwide recognition as one of America's foremost jazz and funk drummers while playing with Herbie Hancock's group in the early 1970's. Mike became known as a major innovator through his incisive playing on Hancock's Thrust album, which garnered him an international cult following.

Mike has performed with jazz greats such as Herbie Hancock, Chet Baker, Tony Bennett, Wayne Shorter, Joe Henderson, Bobby Hutcherson, Woody Shaw, Larry Coryell, Jack Wilkins, Wallace Roney, Geri Allen, Billy Childs, James Genus, Bob Hurst, Chris Potter, Onaje Allan Gumbs, Bobby McFerrin, Al Jarreau, Dave Liebman, Nat Adderly, Oscar Brown Jr., Bill Doggett, Mose Allison, Maxine Brown, Gil Evans and his orchestra, and did a stint with Brand X, the acclaimed British fusion band, founded by Phil Collins. He has performed throughout the world at all the major jazz venues and festivals.

Mike's current project is a big band album with trumpeter/composer/arranger Tim Ouimette.