Facets: Intellect and Emotion
Sunday, April 25, 2010 1:00 pm to 4:00 pm
Saturday, May 1, 2010 1:00 pm to 4:00 pm
Sunday, May 2, 2010 1:00 pm to 4:00 pm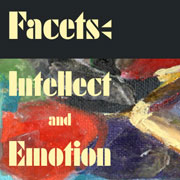 Reflectionist Spring Art Exhibition
Facets: Intellect and Emotion is an exhibition of paintings presented by The Reflectionist, a cooperative of twenty-eight artists that encourages dialog about art.

Artists' Reception: Sunday, April 25.
Facets: Intellect and Emotion in the News
About the Event
Participating artists: Chris Armentano, E.N. Beers, Lone Thygesen Blecher, Bonnie Eggena, Lianne S. Escher, Toni Flynn, Ann Chapin Fischer, Susan Fronapfel, Sylvia Hierro, George Isaacson, Joanne Keane, Martha LaMarche, Kathryn Olsen, Mala Ranade, Gwenann Reid, Alexander Shundi, Dianne Vinopoll and J.K. Williams.