DUSTY
Friday, April 23, 2010 at 8:00 pm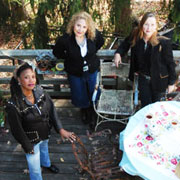 Deborah Berg, Sherryl Marshall, and Lesley Miller
With special guest Jake Holmes
BAND: Peter Calo (guitar), Ivan Bodley (bass), Tom Swafford (fiddle), Dick Neal (banjo) and Kenny Soule (drums).
RECIPE FOR DUSTY: Start with three veteran songstresses blending close harmonies and vocal styles with their original songs as well as classic popular songs. Add their country-swing backing band and mix in a touch of Island reggae, and you have the recipe for DUSTY.
DUSTY in the News
About the Event
DEBORAH BERG and her musical partner Julian Marshall recorded three albums as Eye to Eye, a sophisticated pop duo with strong contemporary influences. Solo, Deborah self-produced the album Places Where I Dream in 1999. Deborah Berg has worked with such talented musicians as Jeff Porcaro, Rick Derringer, Elliott Randall, Jim Keltner, Timothy B. Schmit, Donald Fagen, Walter Becker, Larry Carlton, The Uptown Horns, Catherine Russell, and Soozie Tyrell.
SHERRYL MARSHALL is a New York singer who has worn many musical hats in her career. She has worked with Gloria Gaynor, Leslie Gore, Darlene Love, Chubby Checker, Peter Wolf, Southside Johnny, Johnny Rivers, Lou Gramm of Foreigner, Black 47, Rupaul, Joni Mitchell, and a host of others. She was a regular member of the Buster Poindexter show for ten years and is a member of the New York Singers Collective.
LESLEY MILLER has been a studio singer in New York City recording studios for 30+ years. She was also in a trio with Valerie Simpson and Toni Wine, singing on hundreds of albums, including Burt Bacharach, Blood Sweat and Tears, and James Brown. She's voiced thousands of jingles, most notably "State Farm is There" and "Luvs." Lesley also created a children's CD with music partner Denis Martin, named, Nanna Unplugged.
Singer, songwriter, and poet, JAKE HOLMES has been compared to Tim Buckley, Leonard, Cohen, Bob Lind, Jesse Colin Young and Bruce Cockburn.
His late '60s releases – Above Ground Sound of Jake Holmes (Tower), Letter To Katherine December (Capital), Jake Holmes and How Are You (Polydor) led to the 1970 hit "So Close" from the album So Close, So Very Far To Go (Polydor) and the subsequent CBS release, How Much Time.
Jake's songs have been recorded by a variety of artists including Tom Rush, Eartha Kitt, and Frank Sinatra. Jake traveled to South Africa to write music for Harry Belafonte's album Paradise In Gazankulu. His music has been featured in the Woody Allen film Bananas and Dusty and Sweets Mcgee.
The Manhattan Theater Club production of Jake's musical Sidewalking earned Jake a Drama Desk Critics Award nomination.
Jake is an accomplished commercial jingle writer, composing some of the catchiest ever written: "Be All That You Can Be," "Gillette – The Best A Man Can Get," "Be A Pepper," "The Softer Side of Sears" and Charmin's "Less Is More." He is the only jingle writer ever to be inducted into the Songwriters' Hall Of Fame.