Visions, Sensations, Considerations
Saturday, November 14, 2009 1:00 pm to 4:00 pm
Sunday, November 15, 2009 1:00 pm to 4:00 pm
Saturday, November 21, 2009 1:00 pm to 4:00 pm
Sunday, November 22, 2009 1:00 pm to 4:00 pm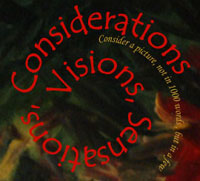 The Reflectionist Fall Art Exhibition
A cooperative of 28 artists asks us to "consider a picture, not in 1000 words, but in a few."
Have you ever wished there was more viewer interaction at art exhibits? So do many artists, which is why the Reflectionist art group presents interactive art shows, in which viewers are encouraged to participate. Clipboards are posted next to each piece in these exhibits, so that viewers can jot down their reactions to the art and artists' statements.

This show is dedicated to the memory of Reflectionist artist Nancy Lee Schultz, and features a selection of her work.

Artists' Reception: Sunday, November 15
Visions, Sensations, Considerations in the News
Fall 2009 Art Exhibition Announcement
About the Event
Participating Artists: E.N. Beers, Bonnie Eggena, Lianne S. Escher, Ann Chapin Fischer, Susan Fronapfel, Bea Gustafson, Sylvia Hierro, Robert F. Hauver, George Isaacson, Alex Kron, Kathryn Olsen, Mala Ranade, Nancy Lee Schulz, Alexander Shundi, Gerry Skennion, Dianne Vinopoll and J.K. Williams.