Sound Mixing Workshop
Saturday, January 9, 2010 1:00 pm to 3:30 pm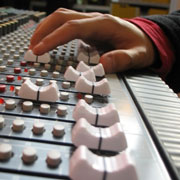 Making a performer sound great.
Techniques for making full use of available equipment.
Award Winning Sound Engineer Michael Cirile offers hands-on workshop in setting up and using sound equipment, interacting with the band, caring for the equipment, basic mixing techniques, problem-solving and maintaining equipment for the long-term.
No fee. Limited to 12. Snacks provided.
To sign up, send note to rsvp@artsonthelake.org.
About the Event
Audio Engineer Michael Cirile has worldwide experience in studio design, installations and audio production (music, live broadcast and post-production).
    He was a mixer/consultant for the Olympic Games from 1996-2002. In 2000 he won an Emmy for Mixing in Sydney, Australia for the 2002 summer games.
    He has worked for ABC, NBC, MSNBC, CBS, MSG, USA Network, HBO, Discovery Channel, National Geographic Films, North Carolina School of the Arts, DJM Films, Sony Music Studios, FOX Sports, Walt Disney Imagineering, Nickelodeon and National Mobile Television.
    Some of his clients have been Willie Nelson, Eric Clapton, Tina Turner, Janet Jackson, 50 Cent, Gloria Estafan, Foo Fighters, Joan Osborne, N'Sync, P Diddy, Eminem and Bruce Hornsby.
    Michael Cirile lives in Putnam Valley with his wife, jazz vocalist Michelle LeBlanc.