A Reading of Charles Dickens's "A Christmas Carol"
Friday, December 18, 2009 at 8:00 pm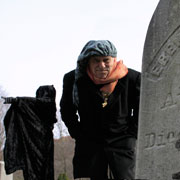 A Blue Horse Repertory Presentation
Cast: Stu Hample, Nancy Johnston*, Ryan Katzer*, Joe Capone*, Paul Coleman, Brian Keeler*,
Lora Lee Ecobelli*, James Shearwood*,
Lanie and Porter Durkee.
Directed by Peggity Price*

After a night of turmoil, Scrooge is given a redemptive second chance.

*Member of Actors' Equity Association.
A Reading of Charles Dickens's "A Christmas Carol" in the News