The Magic of the Nutcracker Tale - a fantastic adventure
Saturday, December 12, 2009 at 3:00 pm
Saturday, December 12, 2009 at 7:30 pm
Sunday, December 13, 2009 at 1:00 pm
Sunday, December 13, 2009 at 4:00 pm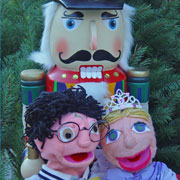 Bart Cook and Maria Calegari's 2009 creation of puppets, people and dance.
For young and old alike.
This year the magic goes further with new puppets, life-size characters and additional Nutcracker dances.
*The Saturday evening performance includes a reception with former Principal Dancers of the New York City Ballet Maria Calegari and Bart Cook.

Partial funding for this program is provided by the Putnam Arts Fund, which is supported by public funds from Putnam County and administered by the Putnam Arts Council. Generous help for this production was provided by RKE Productions, Kenny's CARPET ONE and Bruno Marriello.
The Magic of the Nutcracker Tale - a fantastic adventure in the News
Press Release: Arts on the Lake Puppet Theatre Presents "The Magic of the Nutcracker Tale" , 11/20/2009
About the Event
ABOUT THE PLAYERS
(In order of program listing)
Bart Cook choreographed and was a Principal Dancer at New York City Ballet. He was Herr Drosselmeier in the film "George Balanchine's The Nutcracker" and teaches Balanchine and Robbins ballets to major companies worldwide.
Kathie Freston appeared last summer at the Depot Theater (Garrison) "Senior Moment" after being seen by playwright Bob Zaslow in a workshop production at AotL.
As an actor, James Shearwood has appeared in NYC at Ensemble Studio Theatre, AMAS Rep, Women's Interart, New Federal Theatre and Playwright's Horizons.
Former Principal Dancer with New York City Ballet, Maria Calegari has been teaching throughout the U.S. and teaches Balanchine and Robins ballets to the world's top ballet companies.
Francie Anne Riley is a voice-over professional who most recently recorded "The Old Testament" for Jewish Publication Services.
Ted May is best known as director of TV's "Sesame Street". He has also directed on Comedy Central and the puppet show, "Between the Lines", teaching children to read.
Midhat Serbagi played viola with the Metropolitan Opera Orchestra for thirty-seven years.
Donna O'Neill has been dancing since she was six years old, but this is her first time she has been in the same show as her daughter, Deanna.
Casey Hendricks recently performed in the Carmel High School production of "The Rug Room Monologues".
A computer engineer, Mouse King (and Stage Manager) Steve Schreiber is also a musician ( jazz guitar, vibraphone, conga drums) and appeared last March in Samuel Beckett's "Act Without Words II" with Bart Cook.
Sketch artist Gavin Mackie was promoted from soldier to Nutcracker this year. Ava Rogers studies the cello. Porter Durkee will appear Friday, December 18, as Tiny Tim in Blue Horse's "Christmas Carol".
Lucy O'Shaughnessy and Carly Lovelett expect to exhibit again in AotL's Student Art Show February 26-28. Carmel High School Junior John Enkler plays the piano.
Peter Kiewra, Deanna O'Neill, Lydia Kiewra and Corinne Tuthill are students of Maria Calegari.
Zulie Lozada studies acting with Lora Lee Ecobelli and appeared last April in "Shorts on the Lake". Ellen Leerburger is currently Interpretative Design Director for Mexico City's Museum of Memory and Tolerance's "Panwapa" exhibit based on Sesame Workshop's online world. Suzi Tuthill is a soccer and ballet mom to Corinne.
Lanie Durkee, Morgan Gallagher and Sojie Insinger recently danced in Ballet II's "Falling Leaves".
Jacqui D'Angio plays the violin in a quartet that includes Ava and Bob Rogers and their teacher Paul Ehrlich.
Cabaret performer Morracca Haniya also teaches Egyptian/Eastern styles of dance - dancerinthenile@aol.com.
Technical Director Ed Durkee has a Masters from the Yale Divinity School and multiple lighting design credits from off-Broadway in the East Village, NYC.
Born in Switzerland, Edward Kiewra plays the trombone in the Millbrook High School Jazz Ensemble. Patrick Insinger aids Nunzio Lardizzone at the Computer Service Center of Carmel.
Canadian citizen Cliff Narbey arrived via the Kent Recycling Center. Pam Sommer grew from a Flower Pot Madam the first year to the upper reaches of backstage this year. Jen Gazzo is a writer and performer who credits most of her inspiration to the Muppet, Grover.
THE MAGIC OF THE NUTCRACKER TALE
Dedicated to Grimm, Tchaikovsky, Hoffmann and Rawlings
Conception, Design, Direction and Story by Bart Cook

CAST
MISS HELGOT GRIMM - Kathie Freston
WILLIAM WISEMAN - Bart Cook / James Shearwood (voice)
RAPUNZEL - Maria Calegari / Francie Anne Riley (voice)
HERR DROSSELMEIER - Ted May / Midhat Serbagi (voice)
WITCH GOTHEL - Donna O'Neill / James Shearwood (voice)
THE RABBIT - Casey Hendricks / Francie Anne Riley(voice)
MOUSE KING - Steve Schreiber
NUTCRACKER - Gavin Mackie
ANGEL - Ava Rogers / Francie Anne Riley (voice)
CHERUB - Porter Durkee
Act I Players
THREE WISEMEN - Lucy O'Shaughnessy, Carly Lovelett, John Enkler
STAR/PALM TREE - Peter Kiewra
PINE TREES - Deanna O'Neill, Casey Hendricks, Lydia Kiewra, Corinne Tuthill, Lucy O'Shaughnessy
SNOWFLAKE MADAMS - Donna O'Neill, Zulie Lozada, Ellen Leerburger, Suzanne Tuthill
SNOWFLAKE PRINCESSES - Lanie Durkee, Morgan Gallagher, Sojie Insinger
MICE - Deanna O'Neill, Casey Hendricks, Lydia Kiewra, Corinne Tuthill, Lucy O'Shaughnessy
SOLDIERS - John Enkler, Peter Kiewra, Ava Rogers, Jacqui D'Angio, Carly Lovelett, Zulie Lozada
Act II Players
SUGAR PLUM - Maria Calegari and Corinne Tuthill
ORIENTAL TEA - Maria Calegari, Bart Cook, Lydia Kiewra, Corinne Tuthill, Jacqui D'Angio and Ava Rogers
SLAVIC PEPPERMINT - Donna O'Neill, Maria Calegari and Bart Cook
IBERIAN HOT CHOCOLATE - Deanna O'Neill and Bart Cook
TYROLEAN MARZIPAN - Peter Kiewra, Corinne Tuthill, Deanna O'Neill, Lydia Kiewra, John Enkler, Gavin Mackie, Casey Hendricks and Jacqui D'Angio
PERSIAN COFFEE - Morracca Haniya with Bart Cook, Lucy O'Shaughnessy, Zulie Lozada, Carly Lovelett and Donna O'Neill
MOTHER GINGER - Steve Schreiber and Ensemble
FINALE - the Entire Cast
KINDER BALLET and BALLET I - Shannon Ravert, Kayleigh Ravert, Megan Ravert, Rebecca Spears, Kacie Eichhorn, Kaitin Messina and James Messina
Lighting Design and Technical Director: Ed Durkee
Sound and Lighting Technicians: Edward Kiewra, Patrick Insinger
Stage Manager: Steve Schreiber
Production Crew: Cliff Narbey, Pam Sommer and Jennifer Gazzo

PRODUCTION STAFF
Puppet Theatre Construction: Bart Cook and Ed Durkee
Puppet Construction: Bart Cook, Maria Calegari and Kathie Freston
Construction, Painting and Sewing Crew: Liz Allison, Paulette Barrett, Jeanne Buck, Maria Calegari, Kate D'Angio, Kathie Freston, Anita Kiewra, Mary Schreiber, Suzy Tuthill and many other helping hands.
Scenery Painting: Monica Craig, Barbara Williams
Producing Coordinator: Jeanne Buck
Educational Coordinator: Ellen Leerburger
Children's Supervision: Mary Schreiber
Nutcracker Public Relations: Paulette Barrett, Bob Hauver and Press Coordinator Tracy Gallagher
Poster Design: Eileen Civitillo
Photo: Marty Collins
Saturday Dessert Reception: Lisa Owens
Credits and Thanks
Julie Cook Orlob for mouse king head.
Carolyn McEwen for mouse king costume.
Additional costume construction: Carolyn McEwen, Pam Sommer, Marion Calegari and Anita Kiewra.