Ukes on the Lake
Meets first and third Sundays at the Center, 3 - 5 pm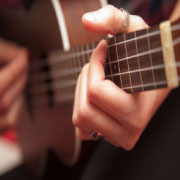 It is impossible to listen to ukulele music without smiling. Not only is it fun, but the basics are pretty easy to learn.
UKES ON THE LAKE meets at the Center the first and third Sunday of each month from 3 to 5 pm to play, work on technique, grow as musicians, and make friends.
Experience does not matter. All that matters is a love of making music. First-time visitors are always welcome.
Contact Sal at hasongs@yahoo.com for add'l information or if you plan to attend for the first time.
No uke? Try this imaginative solution - six guys on one ukulele. Six Guys Playing One Ukulele
Listen to Jake Shimabukuro playing Bohemian Rapsody at a TED Conference.
Song Charts for these and other songs can be found at:
This Land Is Your Land (C - but starts on an F)
Red River Valley (C)
America the Beautiful (C)
Blowin' In The Wind (C)
By The Light Of The Silvery Moon (F)
Dream A Little Dream (F)
Hello Dolly (Bb)
Jamaica Farewell (C)
La Vie En Rose (C)
Leavin On A Jet Plane (F)
Leroy Brown (F)
Over The Rainbow (C)
Raindrops Keep Fallin' On My Head (C)
Sweet Baby James (D)
Take Me Home, Country Roads (F)
What A Wonderful World (C)