Improv Workshop

Saturday, Feb 20

Try it.

Horse / Play - new improv ensemble

Saturday, Feb 20

An improv performance that combines the best of storytelling, stand-up comedy and audience spontaneity. .

The Man in the Woman's Shoes

Saturday, Mar 5

A NYTimes "Critic's Pick" comes to the Arts Center for one performance.
See more Coming Events»
Keeping up to date is easy!
Arts on the Lake News
Blue Horse Rep Brings Improv to AotL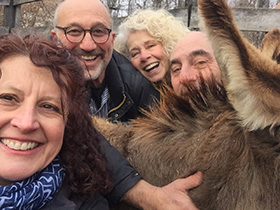 The Blue Horse Repertory Company will bring both an afternoon workshop and an evening performance, "Horse / Play," to Arts on the Lake on Saturday, February 20. Read full press release.
NY Times features AotL's "Humble Home"
In the Jan. 31, 2016, edition, NY Times writer Douglas P. Clement chronicles the life of AotL. See In Putnam County, a humble home for Arts on the Lake.
Alex Shundi Exhibition in Millerton
The Art of Alex Shundi will open at The Moviehouse Studio Gallery, January 16, with a gallery talk from 5 - 6 pm and a reception from 6 - 7 pm. Exhibition runs from January 16 until April 14. The Gallery is located at 48 Main Street, Millerton, NY 12547.
See Member Bulletins for more news items.