The Scutley Papers
Saturday, March 16, 2013 at 8:00 pm
Sunday, March 17, 2013 at 2:00 pm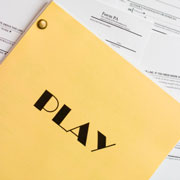 Eudora Welty New Play Series First Prize Winner
Share in the development of a new play.
The story of a Louisiana trailer-park woman who perseveres to write against enormous odds (a husband!), The Scutley Papers by Jamie Wax, will be brought to life in this solo staged reading by Broadway veteran Cass Morgan and directed by Eleanor Reissa. Mr. Wax is best known for "A Gift for Lyman Bourke," Ms. Morgan's most recent Broadway appearance was in "Memphis," and Kent weekend-resident Eleanor Reissa has a Tony nomination for her direction of "Those Were the Days" and an Outer Critics nomination for "Cowgirls."
The Scutley Papers in the News
Press release: Southern Writer Brings B'way Cast to Arts on the Lake
About the Event
Cass Morgan's most recent Broadway appearance was as Mama Calhoun in the musical "Memphis, for which she received an Outer Critics Circle nomination. Previous Broadway credits include "Mary Poppins," "Beauty and the Beast," "Pump Boys and Dinettes" (co-author) and "Hair." This summer she returns to the Williamstown Theatre Festival to originate the role of Marge in the musical adaptation of "Bridges of Madison County."
Eleanor Reissa just directed "The Threepenny Opera" at Colgate University, while "Hershele Ostropolyer," which she adapted and directed, is touring Israel. In addition to a Tony Nomination for "Those Were the Days" and an Outer Critics nomination for "Cowgirls," from 1998-2004 she was Artistic Director of the Folksbiene Theatre and has received a Drama Desk nomination for her work at the Mint Theatre. As an actor she has performed on and off-Broadway including the title role in "Yentl." As a playwright, she has won the Dorothy Silver Prize and been a finalist for Heideman Award at Lousiville Actors Theatre.
Louisiana native Jamie Wax started as an actor, writer, and comedian at the age of fourteen. His stage experience includes playing Puck in three separate productions of "A Midsummer Night's Dream" for RSC director Barry Kyle. In New York and on tour, he played the role of exuberant wine expert Charles Thompson in "Wine Lovers," and is a creative consultant and cast member of the Broadway-bound "Soul Doctor." The author of seven plays, including the one-man "Goin' to Jackson," which he continues to perform throughout the country. With composer Paul Taranto, he created and acted in the musical "Evangeline," seen nationally on PBS. "The Scutley Papers" was recently awarded the Eudora Welty prize for new plays.