Canterbury Tales
Friday, April 19, 2013 at 8:00 pm
Saturday, April 20, 2013 at 8:00 pm
Sunday, April 21, 2013 at 3:00 pm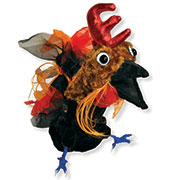 Arts on the Lake's Puppet Theatre presents The Nun's Priest's Tale, The Pardoner's Tale and The Wife of Bath's Tale from Chaucer's Canterbury Tales (a story-telling contest by pilgrims traveling to Canterbury Cathedral).
Conceived and directed by Mary Schreiber, the stories have been adapted by Jen Gazzo.
The cast of actors, puppet operators and puppet voices include Lisa Ameijide, Suzanne Bohmer, Kathy Burkovitz, Ed Durkee, Amy Emke, Jen Gazzo, John Grassilli, Gavin Mackie, Ted May, Francie Anne Riley, Margarita Rubiano, John Schettino and Mary Schreiber.
Although taken from a collection of stories written in Middle English (Whan that Aprille with his shoures soote the droghte of March hath perced to the roote...) by Geoffrey Chaucer at the end of the 14th century, be aware that Chaucer's tales are bawdy and contain some scatological humor.
Tickets now on sale.