Vaneese Thomas R&B Sisters Of Soul
Friday, August 6, 2010 at 7:00 pm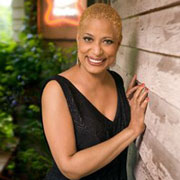 Third show of 2010 Summer Concert Series
Vaneese Thomas, backed up by Paul Mariconda (Keyboards), Phil Hamilton (Guitar), Perry Gartner (Drums), Paul Adamy (Bass), Tim Ouimette (Trumpet), Bill Harris (Sax), Angela Clemmons (Vocals) and Kati Mac (Vocals).
"Step aside, warbling balladeers, overreaching vocal gymnasts and Auto-Tune divas, a real woman with a real, big natural voice is coming through." – San Antonio Express News.
Bring a chair or blanket for the lawn. The concert will be indoors if there is rain.
Debellis Deli, Ice Cream Cafe, hot dogs and drinks available starting at 6:30.
Children with parent: free.
Vaneese Thomas R&B Sisters Of Soul in the News