Stand-Up Comedy - LoHud Diversity Show
Saturday, November 22, 2014 at 8:00 pm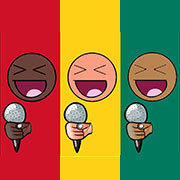 This event is now sold out. There may be standing room, if you're willing to chance it.
What do an Indian, an African-American and an Italian-Irish-American have in common?
A passion for comedy and the ability to break down stereotypes through laughter.

Featured on It's A Chucked Up Life and a regular in Cult Comedy Picture Shows on CNN and Huffington Post, Akash Bhasin has placed 1st at Catch a Rising Star and 2nd at Gilda's Laugh-Off in comedy club competitions. He has entertained crowds with no-holds-bared humor in China, in India, throughout the United States and now Lake Carmel.
From Toledo, Ohio, Charles McBee graduated from Bowling Green State University, moved to NYC on a scholarship to attend The New York Conservatory for Dramatic Arts, and currently writes, directs and stars in his own web series It's A Chucked Up Life. A writer and cast member on The Late Night New York Variety & Talk Show, he performs stand-up in all major NYC clubs as well as across the country.
A comic's comic, Frank Vignola has appeared on Comedy Central TV, at Montreal's prestigious "Just for Laughs" with Bill Maher, entertained troops on tour and at McGuire AFB, and played the starring role of 'Eddie' in Tilting at Windmills. His one-man show God and Science is scheduled to return to NYC later this year.
Stand-Up Comedy - LoHud Diversity Show in the News