Photo Group
Meets 3rd Tuesday, 7 pm.
All photographers are welcome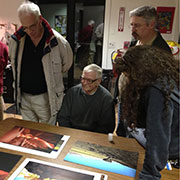 Formed in 2009, the Photo Group provides an opportunity for local photographers to share knowledge and learn from one another.
The group meets monthly to discuss photography, to swap tips & techniques, and to share images and stories in both traditional and digital media.
It's a comfortable, friendly environment where members can also present their work, by showing prints or including digital photos in a projected slideshow.
From beginner to professional, all photographers are invited. Free for members, modest contributions from others.
The Photo Group will be having a Sping Photo Group Exhibit in May.
More about Photo Group
The Photo Group meets the 3rd Tuesday of each month. Newcomers, or for more information, email Chris Casaburi at chris@casaburi.com.
In 2010, the group began to work with the Friends of Kent Library program.
Tuesday meeting dates & times can be seen under the "Events & Tickets" tab above.