Visual Arts Committee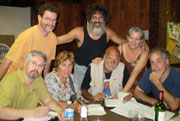 One of the first co-operative groups formed within Arts on the Lake in the fall of 2006, the Visual Arts Committee (VAC) has presented exhibits at the Center that celebrate the diversity and range of artists in the AotL community in the spring and fall of each year starting in 2007. It has also produced exhibits of student work from the Carmel and Brewster schools and a Retrospective of the Work of Leo Burmester. In June of 2008 the VAC organized a Studio Tour of artists' studios in the area and in 2009 an exhibition that explored the collaborative possibilities of art and artists.

In recent years, the Visual Arts Committee has presented two major exhibitions – the Spring Exhibit and the Fall Exhibit - each year. The VAC also organizes AotL contributions to the Kent Library Exhibits.

The VAC sends email announcements of upcoming shows and other matters of interest to visual artists in the area. If you would like to receive email from the Visual Arts Committee, please send your email address to exhibit@artsonthelake.org.
Visual Arts Committee in the News
Information for the 2017 Fall Art Exhibit
More about Visual Arts Committee
The Visual Arts Committee generally meets each month. If you would like to become active in organizing and planning events, email exhibit@artsonthelake.org.
Committee Members: Roy Volpe (chair), Sue Gamache, Mike Keropian, Rita Longabucco, Don Longabucco, Amanda O'Shaughnessy, George Davison, Pal Gyomai and Pallas Athene.